Could it be that Ghana is going to follow the footsteps of the black Americans in the foreign countries to protest Justice for the 'NDC pastor' who was arrested for threatening the EC Boss?
If y'all can recollect, an 'NDC pastor' Identified as Apostle Kwabene Owusu Agyei in a viral video threatened to kill the EC Boss, Jean Mensa if she could continue with their decision to conduct a new voters register. His threat causes his arrest the next morning while he was granted an interview.
After his arrest, he was also found to be in possession of 'wee' and reaction towards it is just unfair as some Ghanaians believe that the Wee was plot to tarnish the image of the man of God.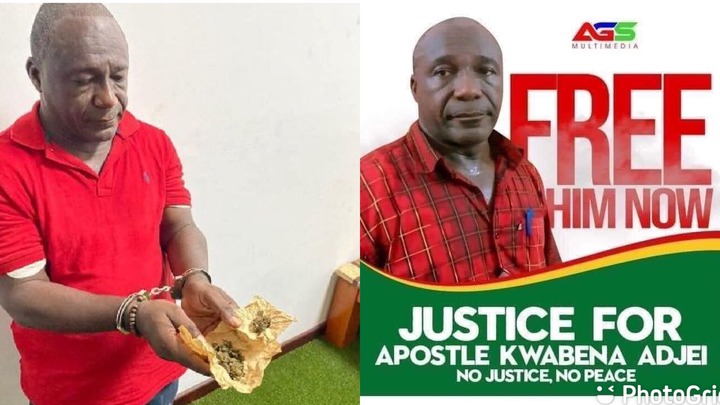 New development about the arrest of the 'NDC pastor' is a poster which sees him on it with the writings "FREE HIM NOW, JUSTICE FOR KWABENE OWUSU AGYEI..NO JUSTICE NO PEACE"
The poster was posted on the Facebook page of one Bigscout Nana Prempeh.
According to him, he picked the picture from an NDC WhatsApp group. He wrote;
"I picked this picture from an ndc WhatsApp group bt my question is why is he always sweating? 😂🙈(Weed + Alcohol)
Ndc people will never disappoint 😂😂😂
Go and Free him"
See his post below