Controversial Dancehall Artiste, Charles Nii Armah Mensah Jnr popularly known as Shatta Wale has been headlining the news for sometime now following this decision to crown himself the Richest artiste in Ghana.
As if that was not enough, He goes on 'disrespecting' anybody in the name of "no one made me who I am today".
Well, Praye Tietia who seems not to be happy with Shatta Wale following the way he use to 'brag' with his riches and disrespect elders in the music industry took to his Instagram page to blasts and also 'advice' Shatta Wale.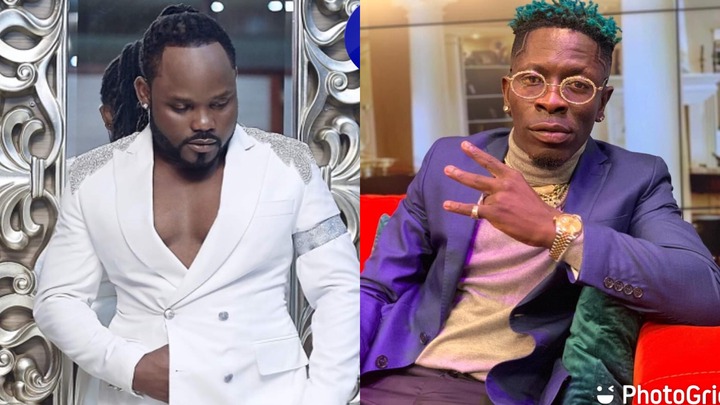 According to Praye Tietia, Shatta wale is the most disrespectful artiste and should learn to be respectful to the veterans who paved way for him to be where he is today.
He also said he does not intend to start any beef with Shatta Wale but he should know the wealth he believes he has amassed would not even get him on the list of top ten richest musicians in Nigeria.
He later on advised that he(Shatta wale) learns from Wizkid and Davido who are richer than him but have learnt to be humble and respectful.
He then conclude that, there were people before him(Shatta Wale) and there will also be people after him.
Read his full not below;
Bro! @shattawalenima Many are those before you who sacrificed a lot to build an industry for all of us to join.
The Music industry years ago took blood, sweat, passion and pure talent to entertain Ghanaians for love and country. Legends like @reggierockstoneand others sacrificed to pave the way for us in hiplife and afrobeat, including people who sacrificed and groomed you Bandana for absolutely nothing.
You rich pass all of us, yooo wakaa yati but i can assure you your so called riches won't make top 10 list of rich musicians even in our neighbouring Nigeria here norr sef, so bro enough of the disrespect to Ghanaian artistes, producers, DJs and the entire industry you came to meet!
Many artistes are very comfortable but they don't need to brag and disrespect others like you do. Davido and Wizkid are two of the richest musicians in Africa but they don't find the need to disrespect their predecessors! You dey embarrass yourself and Ghanaian musicians to the world.
no personal beef here just common sense and morals being shared. We've had it with the gross disrespect and ridiculing at any given chance. Brag all you want but learn to respect people who have made scarifices for you to "eat" today!
There were people before you and there will be people after you.
We are grown men and women who also have families, you don't open your mouth and spew anything anyhow.