Two beautiful long laddies have got the worse reactions of their lives after they happily and publicly announced their marriage to celebrates their union.
The lady who could be a wife to a responsible man Identified as Parisss following her twitter name took to her handle to post a picture of her engagement with another woman which caused stirs on Twitter stated, "refer to me as Mrs. Jones from now on".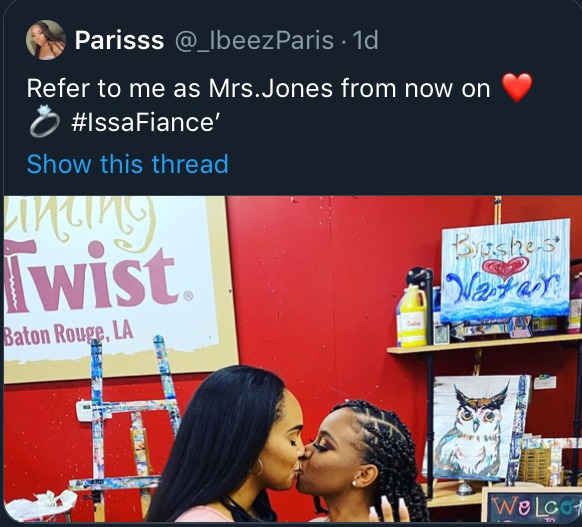 Her post on her page got a lot of netizens pissed soo much that they couldn't hold back their disappointment in the lady.
According to the reactions read, one could tell many did not like the idea of the union of the two women and lashed out on them rebuking them for what they have done while others congratulated and praise them for finding their love.
See some of the comments below:
@mosco67196509: "It should be a man and woman. This is abomination"
@Young_Nung: "See them embracing lesbianism….. This life no just balance may God destroy the union"
@sunnyagoh: "You are going the wrong direction .. Genesis 5:2 He created them male and female.. Genesis 2:24 Therefore a MAN shall leave his father and his mother and shall become united and cleave to his WIFE, and they shall become one flesh. [Matt. 19:5; I Cor. 6:16; Eph. 5:31-33."
@BlakQueenNation: "By the power vested on me by God I curse the union it will not last"
@Freetotalkk: "When God created Adam he didn't create another Adam he created Eve but is very obvious that the world is coming to an end because of the kind of things we see today may God have mercy upon us all"
@EI_147mayaki: "Madness, sick world. Man n woman,not the other way round."
@iamolisaemeka: "I don't blame you I blame @Obama for legalizing this rubbish"