In the Ghana Movie Industry and Nigeria Movie Industry, there are this two actresses who look-a-like very much based on assumptions. Their complexion, height and even facial appearance seems to resemble even their fashion sense. Due to how exceptional and beautiful they are, Ghanaian and Nigerian Vloggers feel much interest in publishing stories about this celebrities. Thereafter, she got featured in numerous movie roles which has made her the one of most successful actresses in recent years.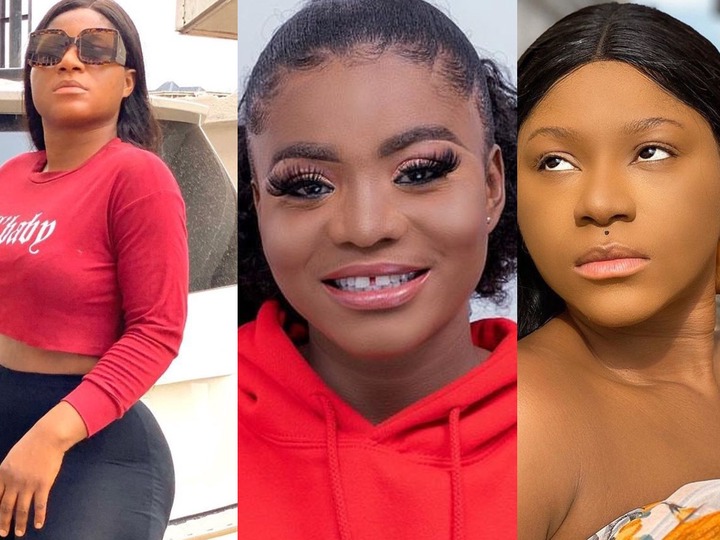 Destiny Etiko is a Nigerian Actress popularly known for her role in hit movies. Destiny Etiko became very famous after she was nominated for the best promising Actress at City People Entertainment Awards for her flawless role in 'idemli'.
Destiny Etiko is a very courageous woman who has won many hearts with her natural beauty. Nigeria is blessed to have such a talented and Pretty actress with who is whole mood.
Meanwhile, there is this Ghanaian actress who looks more like Destiny Etiko and she is widely known as Vivian Okyere.
Vivian Okyere who is also known for her physical beauty is a Ghanaian actress from Kumawood who has starred in quite a number of Ghanaian local movies.
Vivian Okyere is a very Pretty young actress with a lot of natural endowment. Rumuors suggests that she is dating her colleague actor who is also known as as Yaw Dabo.
Not to talk much, check outsome Photos of Vivian Okyere and Destiny Etiko below that clearly shows their resemblance;