Today would have been one of the great day for Former President John Evans Fiifi Atta Mills and the nation at large as he would have been 76 years today, 21st July, 2020 if he was alive.
In memory of the late President John Evans Atta Mills as today marks his birthday, Former President Of The Republic Of Ghana and flag bearer for the direct opposition party, National Democratic Congress(NDC), John Dramani Mahama has taken to his Facebook page to wish him a happy birthday to mark his 76th birthday even though his no more to feel the love from him.
"You would have been 76 years today, Prof. Though in eternity, memories of your sterling qualities and principled leadership are still fresh with us.
You will forever remain in our hearts. Yours is a soul that cannot be forgotten, a man we cannot celebrate enough!
Happy birthday my comrade, mentor and friend. Continue to rest well, Sir." His post reads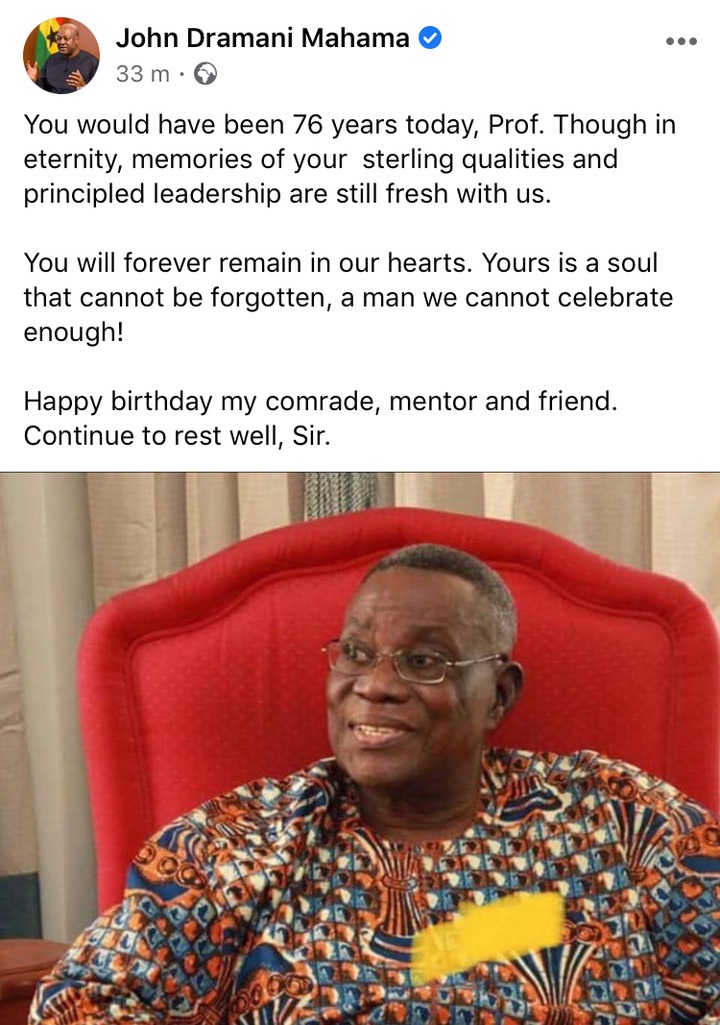 Late President John Evans Atta Mills was described by many as a man who stood for the highest ideals of leadership and for the greatest aspirations of our democracy.
He died suddenly just days after celebrating his 68th birthday. Mr Atta Mills died on Tuesday afternoon at the 37th Military Hospital in Accra on 24th July 2012.
It's been 8 years since the death of former president, John Evans Atta Mills, but the cause of the former president's death still remains unknown.