2020 general elections is approaching and all political parties participating are preparing towards it. Promise upon promises are been made from our dearest political parties and Ghanaians major attention are on the promises from the two 'big' political parties in Ghana; the ruling New Patriotic Party(NPP) and the direct opposition National Democratic Congress(NDC).
Former president and flag bearer for the direct opposition National Democratic Congress(NDC) John Dramani Mahama for some time now giving Heartwarming campaign promises and his recent one is the talk of town.
According to ex-president Mahama, The NDC "mission will not be complete until poverty is eradicated in our country, Ghana, until every child has access to quality and free education, until Ghanaian girls and women are genuinely empowered, until all Ghanaians are truly equal under the law, and until all of us live a meaningful life within an inclusive community."
This didn't go well for some Ghanaians as Ghanaian social media influencer, Bigscout Nana Prempeh recalled how His Excellency Nana Addo Dankwa Akufo Addo told Ghanaians "Y3n ti sikaso naaso 3kum d3 y3n" of which he asked how many of as Ghanaians are satisfied from hunger Nana Addo wa talking about during his campaign?
According to him, It's sad there's No strong third force because both NDC and NPP have taken us for granted for many years with their lies.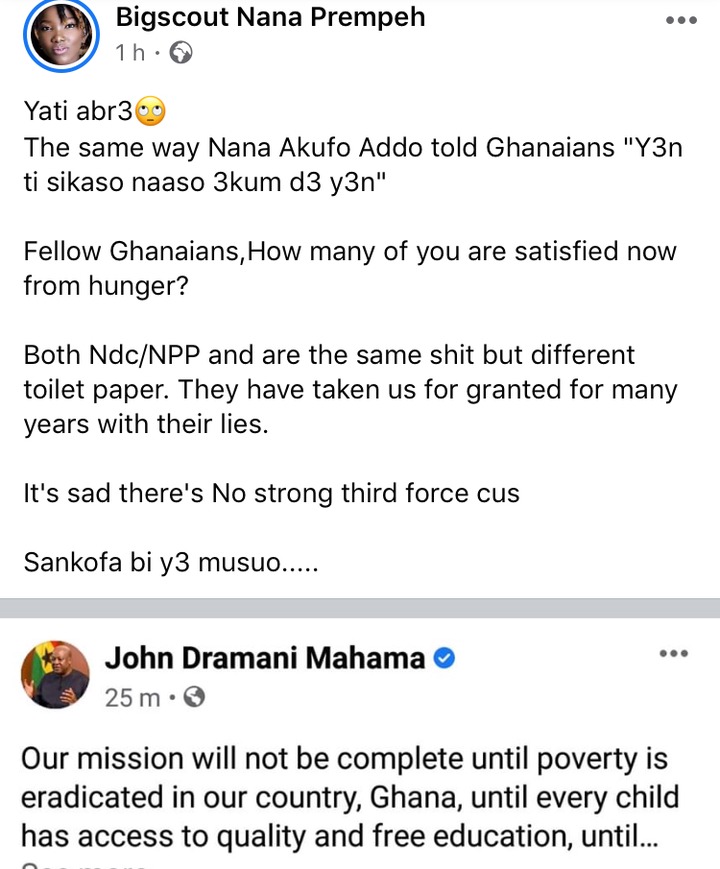 Some also questioned Mr. Mahama on how free and quality education in Ghana is possible following his come when Nana Addo promises and stared his free SHS policy in Ghana.
Checkout come comments below