As we all know, General elections are scheduled to be held in Ghana on 7th December of every election year, per time range, the 2020 general election is getting closer and various stake holders are all preparing toward December 7th election.
The electoral Commission who has the mandate to conduct elections in Ghana has started preparing towards it as the new voters' registration exercise is ongoing.
Following the ongoing voter registration exercise, Ghana have been experiencing pockets of violence from registration centres and this has got a lot of citizens worried and thinking whether the upcoming general election will be peaceful one or it wouldn't.
Following this, one of ghana's great media house, JoyNews took to their facebook page to conduct an online poll on whether the upcoming general elections will be a peaceful one in the wake of pockets of violence at the registration centres or it will not be a peaceful one?
12.4k people took part in the poll and 56% of the people who took part in the poll were on the view that the upcoming elections won't be a peaceful one while 44% were on the view that it will be a peaceful one despite the wake of Lockets of violence at registration centres.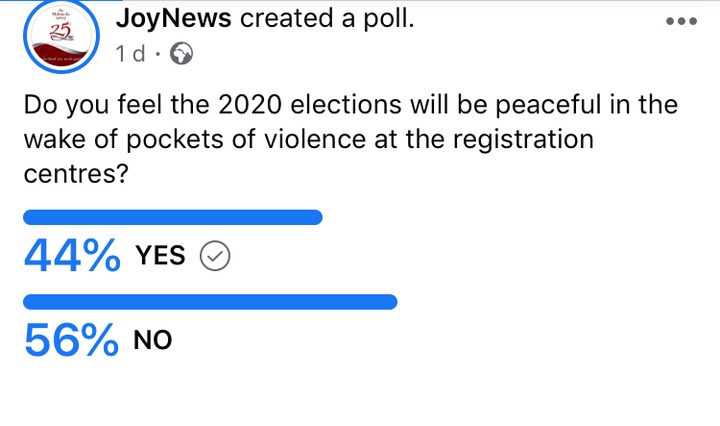 This should draw the attention of Ghanaians and the government of Ghana to sit up and do something about it even though not all Ghanaians participated in the poll.
As it stand all political parties are preparing for the upcoming general elections and we pray and hope for a peaceful election coming December 7th.