This 2020 year has been undoubtedly one of the bad era in a decade now From the countless fatalities from motor accidents and those that we have lost through the dreadful COVID-19 pandemic.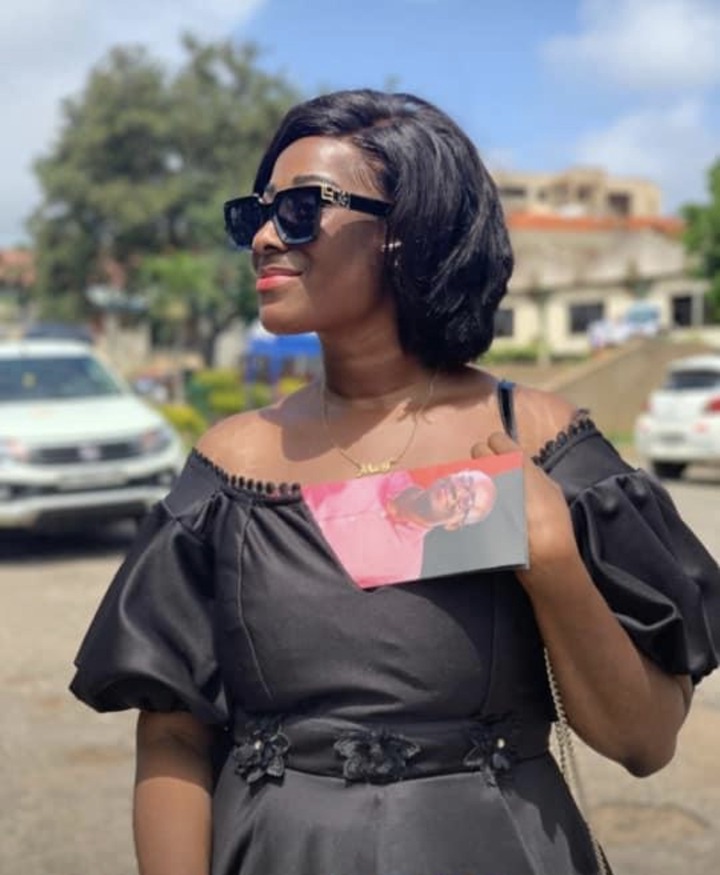 A pretty lady identified as Esther Owusu-Ansah has died in a car crash on Cape Coast to Accra highway.
She was returning from a friend's funeral when the accident occurred not knowing she was very close to Benedicta Gafah.
The popular Ghanaian Kumawood actress cum TV presenter popularly known as Benedicta Gafah has reacted to the death of her sister from another mother who is also known as Esther Owusu Ansah.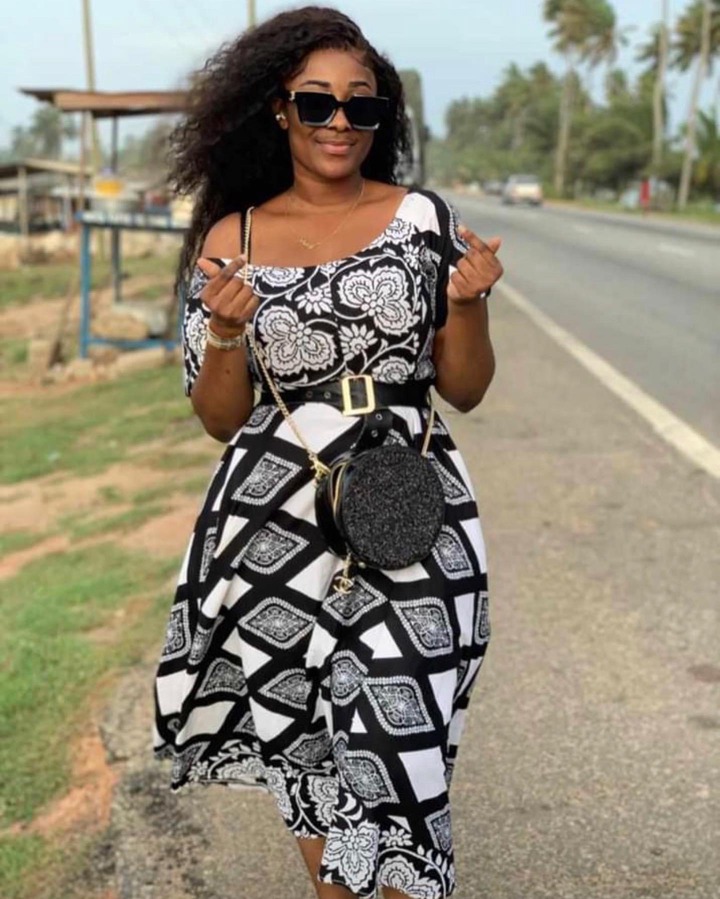 Esther Owusu Ansah was reportedly death this morning after she got involved in a fatal accident which happened in Cape-Coast to Accra Highway whiles returning from a friend's burial rite.
She was one of Benedicta Gafah's closest friend whom have been classified as siblings due to their tight and healthy relationship and most especially their resemblance. Benedicta Gafah started work out recently because of her late sister, Esther, because she was a gymnastic lady.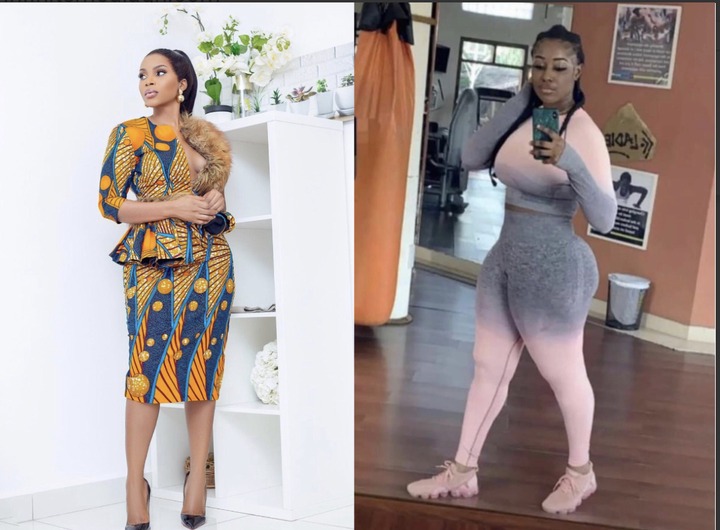 The late Esther is an old student of the Takoradi Technical School.
Benedicta Gafah took onto her timeline to pen down an emotional message to her deceased sister;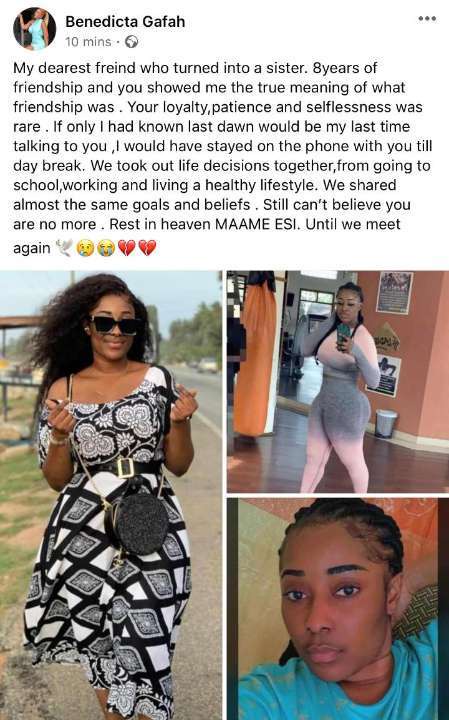 "My dearest friend who turned into a sister. 8years of friendship and you showed me the true meaning of what friendship was . Your loyalty,patience and selflessness was rare . If only I had known last dawn would be my last time talking to you ,I would have stayed on the phone with you till day break. We took our life decisions together,from going to school,working and living a healthy lifestyle. We shared almost the same goals and beliefs . Still can't believe you are no more . Rest in heaven MAAME ESI. Until we meet again Best freind 🕊😢😭💔💔" She posted
After posting this, she later posted a shocking revelation about her late sister's demise;
"2 years ago on the 20th of October we paid our last respect to your Dad. Only if wishes were horses Esther 😭😭😭💔💔💔God . Will forever miss you my confidential friend 🕊"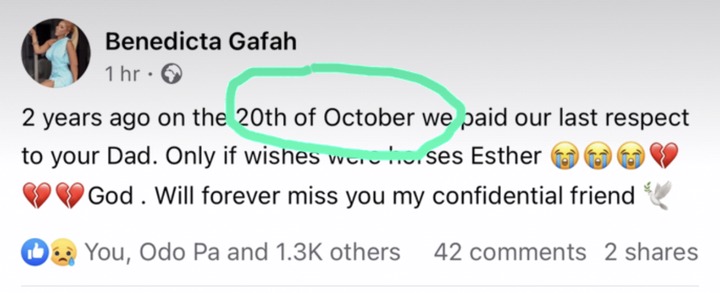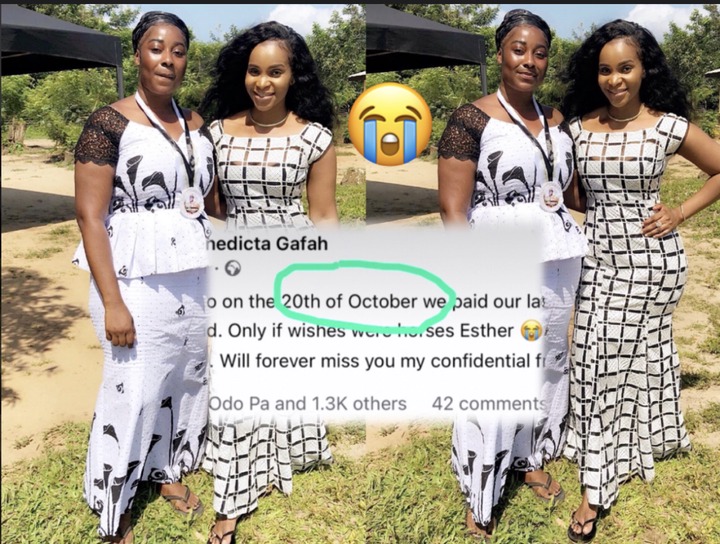 Do you know the shocking answer? Today is 20th of October and the late Esther buried her late dad on this very date way back in last two years and sad but surprisingly, she also passed on, on the 20th of October, 2020.
Ghanaians have joined hands to send their condolences to Benedicta Gafah;