As it is barely 2-months to the December Elections, every nominated Political Party in Ghana are pushing hard and optimising to come out a victorious in the December 7th Polls with all their efforts.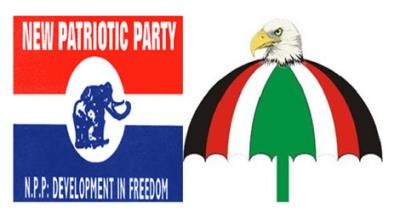 In this era of Politics in Ghana, the most recognised Political Parties rival is the New Patriotic Party (NPP) and the National Democratic Congress (NDC).
The National Democratic Congress and the New Patriotic Party has been the Party who has been to government throughout for over a decade now.
And in Ghana, when it is an Election year, men of God who has been tagged as Prophets try their best to predict the misfortunes and fortunes ahead concerning the Election. To the extent of predicting election result in order to show their Prophetic Powers and gain the trust of followers.
Meanwhile, the Founder and Leader of the Faith Chapel International widely known as Prophet Nyameba showed up on an interview to also disclose what God revealed to him concerning the NDC as he elaborated.
According to him, he saw the General Secretary of the NDC, Asiedu Nketiah carrying the National Communication Director, Sammy Gyamfi On His shoulder whiles running with a horn in Sammy Gyamfi's mouth.
Explaining his revelation, he stated that, Sammy Gyamfi would have been very influential on Ghanaians to vote for the NDC if not for the COVID-19 pandemic due to his God giving manipulative powers and ability to challenge.
Speaking, he revealed that, Sammy Gyamfi is the future back bone of the National Democratic Congress (NDC) when the top notch executives in the Party retires is the main man who will help push the party to the Pinnacle.
"Sammy Gyamfi will be a threat to other Parties in the near future" He lamented.
He then pleaded with Ghanaians to maintain the Peace in the country before and after the Election because unity is the only way we can build as a nation.