In recent times, mobile money agents in Ghana are really suffering in the hands of Armed Robbers who normally attack and rob them. They don't only attack them but get rid of them sometimes too.
This has become a big problem to the National Security and the Vendors as well due to how risky the job has become.
Reports circulating online has it that, a mobile money Armed Robber by name Ahmadu Yakubu has been busted by the youth of Kasoa Ofankor despite being Armed after he attacked a vendor.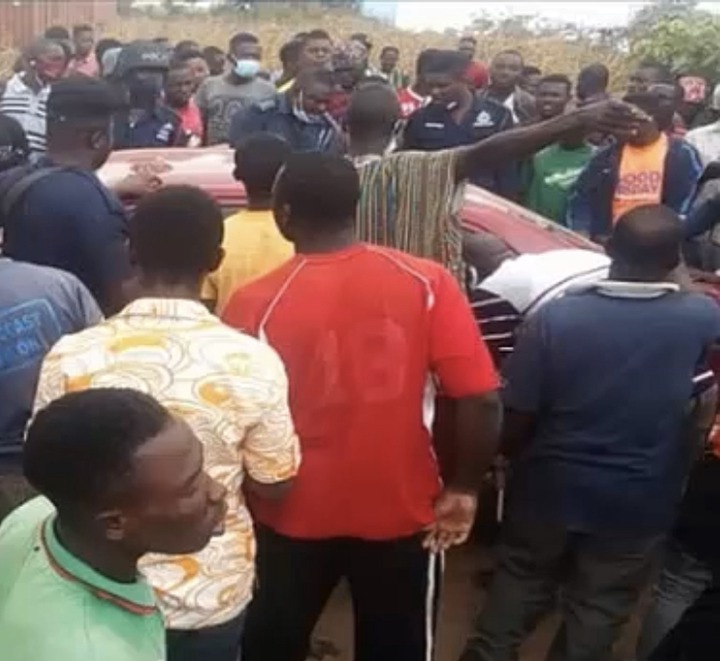 According to the reporter, Ahmadu Yakubu is a notorious Armed Robber who has been attacking mobile money agents with his gang in and around Accra as the Police have searched for him to arrest him for quite a long time now. But today wasn't a good day for him.
Unfortunately for him this afternoon, as he was attacking a vendor his Armed partner was sitting on a motorbike whiles waiting for him to finish the mission on the vendor as he pretended as a withdrawer.
The residents then spotted him where they angrily descended on him and they were able to seize the broken bottle in his hand. His partner was able to escape with the motorbike with how astronomical number of people surrounded him.
Ahmadu Yakubu was then lynched mercilessly by the residents of Kasoa for trying to steal the momo agent in a violent attempt.
According to the reporter, he was nearly lynched to death by the MOB but the Police quickly rushed to arrest him from the hands of the MOB attempt.
Ahmadu Yakubu has been rushed to the Kasoa Polyclinic and will be facing judgement after he recovers.