The President of the Republic of Ghana and the New Patriotic Party (NPP) Presidential candidate cum President to be re-elected, President Nana Addo Dankwa Akufo-Addo has been working tirelessly with his campaign programs across each region since the start of this month.
The New Patriotic Party (NPP) have been very much lively and consistent in their endeavor to be given another term.
It's left with only 7 days to the much anticipated 2020 Election, Political Parties are campaigning so hard to get into Power with their campaign messages to the masses.
Election campaigns will be restricted on the 6th of December that will fall on Sunday for the activity on Monday so it's left with barely 6 days for Presidential candidates and aspirants to make an impact.
Presidential Nana Addo Dankwa Akufo-Addo will be looking forward to Ghanaians to grant him another term according to his good work done. We can determine the probability of him getting his second term but it's up to the masses to decide with their votes.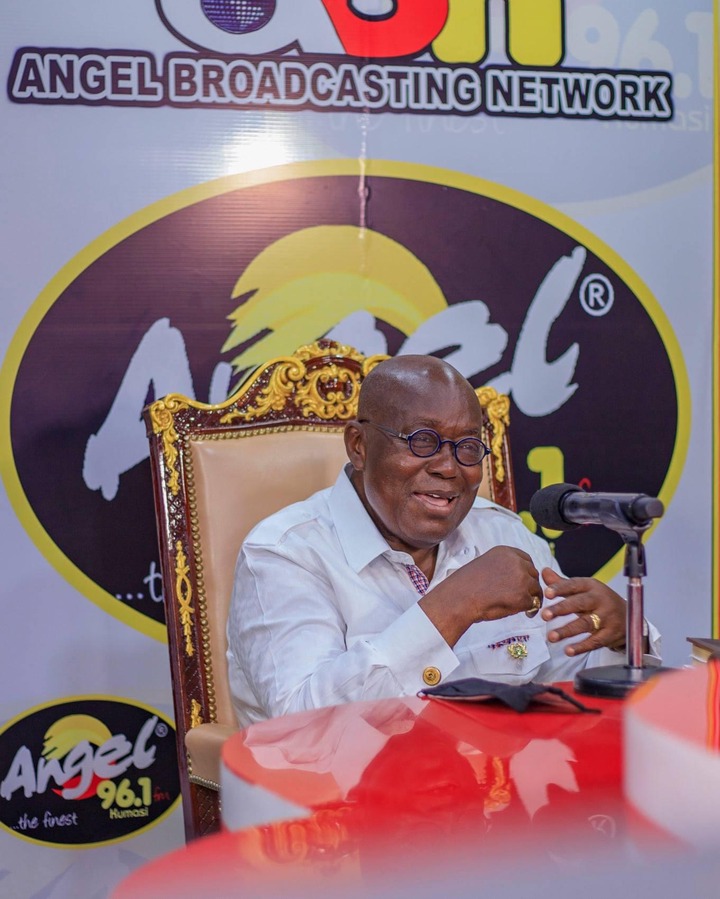 However, President Nana Addo Dankwa Akufo-Addo showed up at an interview today on Angel FM (Kumasi) on his campaign process in the Ashanti Region. As we all know the stronghold of the NPP to be the Ashanti Region of Ghana, mammoth crowd mobbed President Akufo-Addo at the Angel FM premises.
It was really an arousing welcome by the residents before and after Nana Addo's presence at the Angel FM. One Penciled art artist gifted President Akufo-Addo a painting drawing of him in to commend him for his good works.
Have a look at some Photos Of below;