There has been a little bit of misunderstanding on social media after a photo of Ghana's Vice President elected Dr. Mahamudu Bawumia seen on his knees before a Bishop at St. Cyprian's Anglican Cathedral for prayers.
Dr. Mahamudu Bawumia last night joined St. Cyprian's Anglican Cathedral in the capital Of Ashanti Region, Kumasi for the annual Watch Night service ahead the new year. However a photo from him at the church knelt in front of a man Of God for prayers ahead this year, 2021 has sparked discussion following his religion as a Muslim.
Popular social media commentator who mostly talks about religion, Avraham Ben Moshe who is the Leader and Founder of the Common Sense Family(CSF) upon sighting the photo seemed to have problem with a Muslim kneeling in front Of a man Of God for prayers took to Facebook to quiz his followers who are Muslims to educate him of the Vice President's act whether it is allowed in Islam.
Sharing photo of Dr. Bawumia kneeling in front of the man Of God, he wrote; "Vice President elect, Bawumia , Knelt before a bishop at St. Cyprian's Anglican Cathedral
Kumasi.
IS THIS ALLOWED ACCORDING TO ISLAM ☪️? I need a little education from my honorable Muslim scholars please 🙏❤️"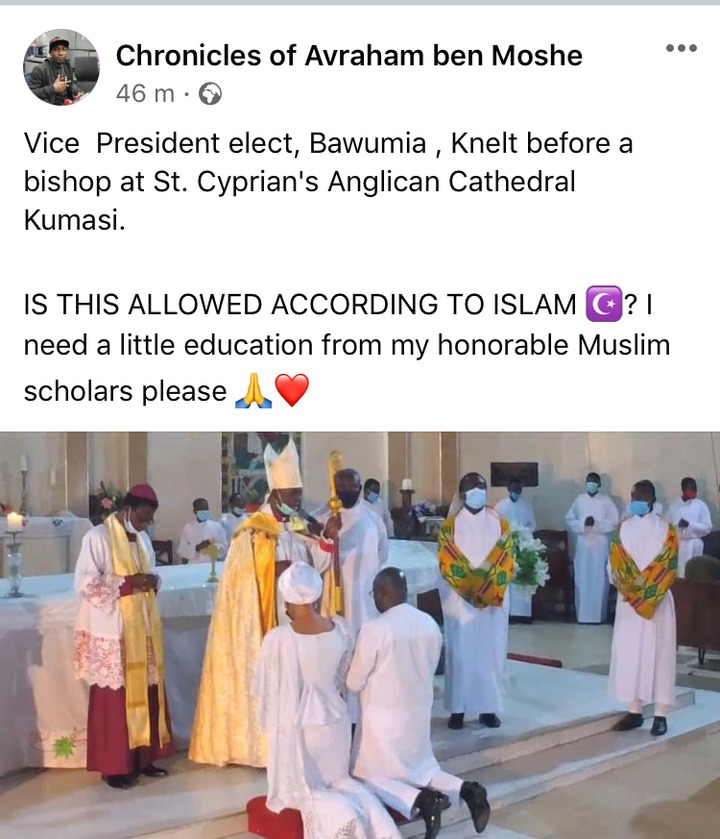 Checkout some reactions from social media users below ..