Award winning Ghanaian Artist, Livingstone Etse Satekla, better known by his stage name Stonebwoy has land in trouble over Allegedly arresting two Ghanaian bloggers for circulating false news about him some few days back.
This is because the said blogger posted a photo of Stonebwoy, his wife, his son and Blakk Cedi and insinuating that Cedi might be the father of the child.
It's not clear who caused the arrest but what's undeniable is that it came from Stonebwoy's camp.
The blogger who was invited by the police to assist in investigation had to come out and apologize to the family and the fan base of the A-list artist.
"On 27th December 2020, I made a publication on my timeline promulgating a false rumour that Dr Louisa's son Is for Black Cidi instead of Stonebwoy. This rather distasteful false rumour has been widely circulated. And the consequences have been invited by the police to assist in investigations," Ofori wrote on his timeline.
"I want to take this medium to send an apology to Dr Louisa, the husband (Stonebwoy), the family and the fan base for subjecting them to public ridicule and pain due to my amateurish type of blogging,"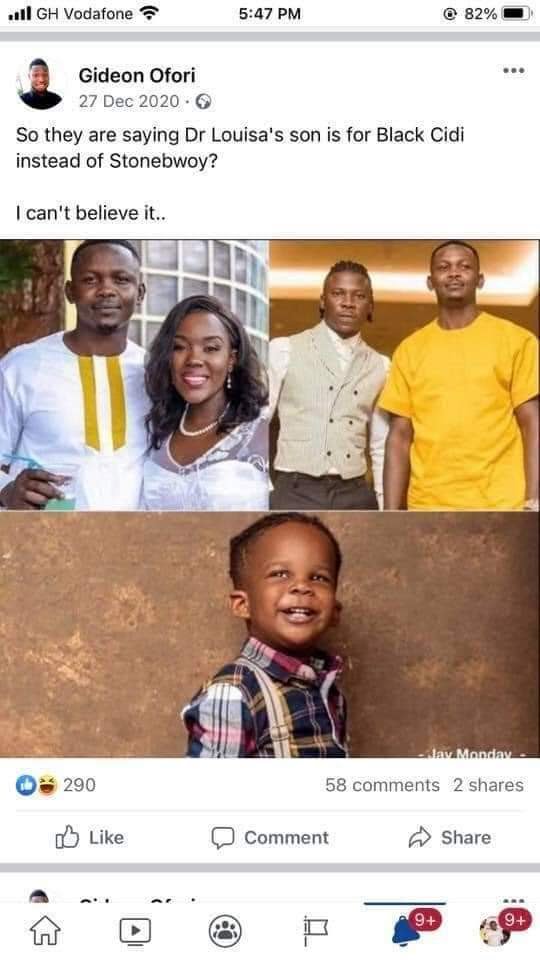 Many Ghanaian upon sighting the post of the blogger have reacted massively to it and some were not happy about the arrest of the Ghanaian blogger while other were in support on the grounds that, Ghanaian bloggers always publish false news to tarnish the reputation of many celebrities and public figures.
A die hard fan of the Dancehall Artist upon sighting the post have also react to it and according to her, the action on the blogger was on called for.
She stated that same rumours were peddled about Shatta Wale, yet he didn't press any charges, so he doesn't understand why Stonebwoy and his team called for the arrest of the bloggers in question.
She made this known to the public in a DM to award winning Ghanaian blogger, Zionfelix and some Ghanaians upon sighting her view on the issue have also react to it.
Read her full message and some reaction from Ghanaians below