SMan which stands for 'Stingy Men Association' became a trend on Twitter, as it was number one on Twitter Nigeria and later became a trend in Ghana as well as our top celebs joined the trend.
It appears that it got the attention of both Nigerians and Ghanaians after more and more Nigerian celebrities share mock-ups of membership cards for the group.
A tweet by music producer Don Jazzy of his own card has been retweeted more than 11,000 times, then singer, Mr Eazi shared his.
Afterwards, it has become the new trend in Ghana as many social media users including out top celebs join the trend, sharing their members card on the social media handles.
However, following the trend, A-list Ghanaian Artist, Micheal Owusu popularly known as Sarkodie have reacted to the trend as he express his disappointment for not getting his members card before some members.
Sarkodie who have been tagged the most stingy artist in Ghanaians per his reactions indicated that, indeed he has agreed to the fact that he's stingy but finds it disrespectful to see others get their membership card while the king of STINGY himself hasn't gotten his.
Taking to twitter, the rapper wrote l, "What sort of disrespect is this…been seeing a lot of you guys getting this card before me like how?"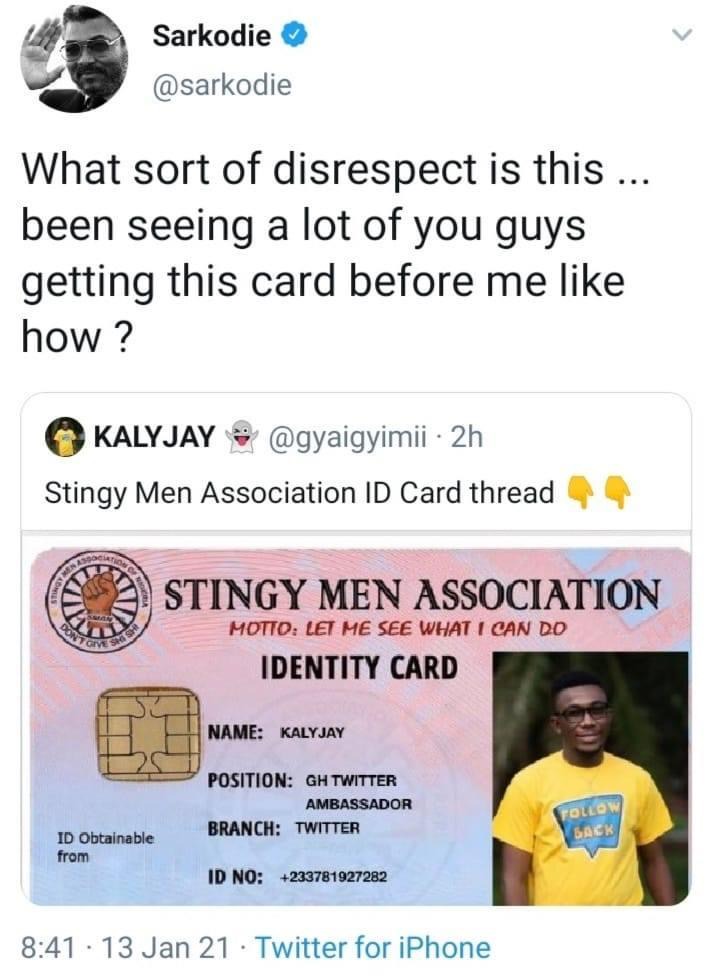 See Screenshot Below ..