Wife of Guinean musician Moussa Sandiana kaba better known as Grand P, Eudoxie for sometime now have been blessing the gram with mouthwatering Photos as she flaunts her heavy weight back side as well.
Eudoxie Yao Who is engaged to her lover, Grand P is on record as the person with the biggest hips and backside in Africa, if not the world. She is an Ivorian model, musician and social media influencer.
Many have been wondering if her hips and heavyweight backside are real or not following the nature of it.
However, following the decision of the well endowed model to settle with his husband, Grand P following his size and nature, it has leave many in thinking where the tru love lies in their marriage as the insinuate the model married the musician because he's rich.
In this post, I will take you through a photo of Eudoxie Yao that shows when she was not popular and has this sizable hips and backside proving that, she might have tempered with her hips and backside.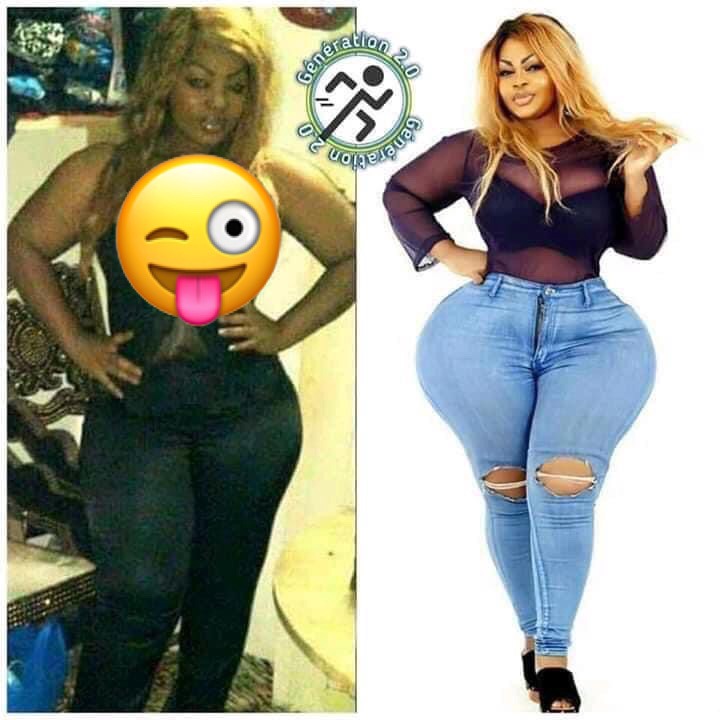 Taking close look at the before and after photo of the popular model above, one need not to be convinced to agree to the fact that, the model has enhanced her body for fame.
Take a look at her current photo below and tell me what you make of her throwback photo.