Poliomyelitis, popularly known as Polio is a disabling and life-threatening disease caused by the poliovirus.This virus, just live Covid-19, is spreads from person to person and can infect a person's spinal cord, causing paralysis (can't move parts of the body).
It is said to have hit the world in the early part of the 20th century. Although polio cases have decreased by over 99% since 1988, It is said that only 3 countries in the world have never stopped transmission of polio, that is, Pakistan, Afghanistan and Nigeria.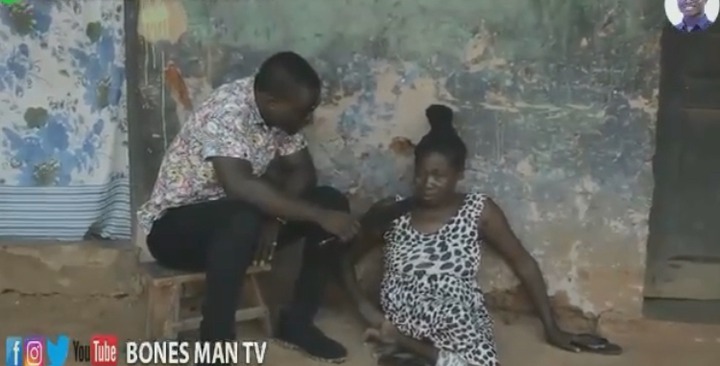 Bones Man and Maame Serwaa
Having said that, a video on the internet today happens to be the saddest video ever the hit us since we entered into this new year, 2021. The said video have got everyone who came across it emotional.
The video Is a story of a Ghanaian woman, age, 45 Identified as Maame Serwaa and it's really a tuff one.
In an exclusive interview with Bones Man on Bones Man TV, Maame Serwaa who hails from Busunya, a village in Nkoranza shared her emotional story of how she became paralyzed and had to walk with her knees for the past 43 years due to a polio attack.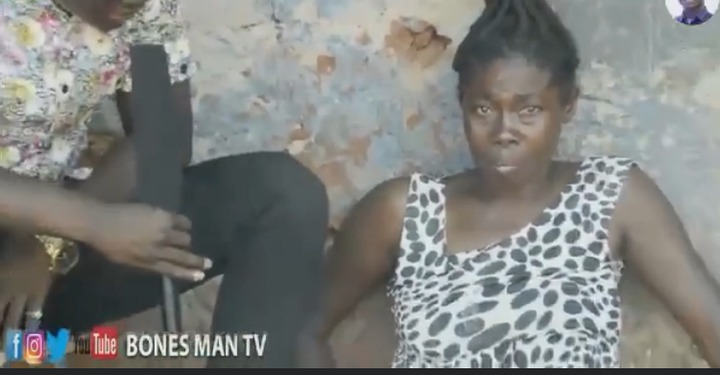 Maame Serwaa
According to Maame Serwaa, she was attacked by the global pandemic that hit us during the early part of the 20th century, Poliomyelitis, popularly known as Polio when she was only two years of age.
According to her, as a result of the virus, she had to receive 30 injections of which she received them everyday at the hospital and from then, she has never been able to walk with her Feets unless her kneels.
The saddest part is that m, the said woman who has been walking with her Knees for the past 43years have three children with different fathers but the men do not take care of the children making life more unbearable for her.
Maame Serwaa sell Charcoal to take care of her three children their fathers abandon.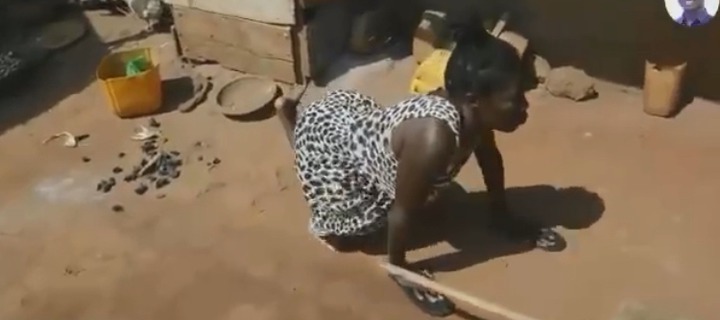 Maame Serwaa Walking With Her Knee
Indeed life has really become a very tuff and Challenging for her as additional to her situation she has to take care of three children as well! Some men can be soo heartless!