July 2nd, 2010 is a day many Ghanaians and football lovers including myself will never forget following how the former captain of Ghana's nations Team, The Black Stars Of Ghana, Asamoah Gyan popularly known as baby jet missed the penalty lick against Uruguay.
The said game between Ghana and Uruguay was the quarterfinals of the 2010 FIFA World Cup and Ghanaians were of the view that, that was the first time Ghana could have won the World Cup.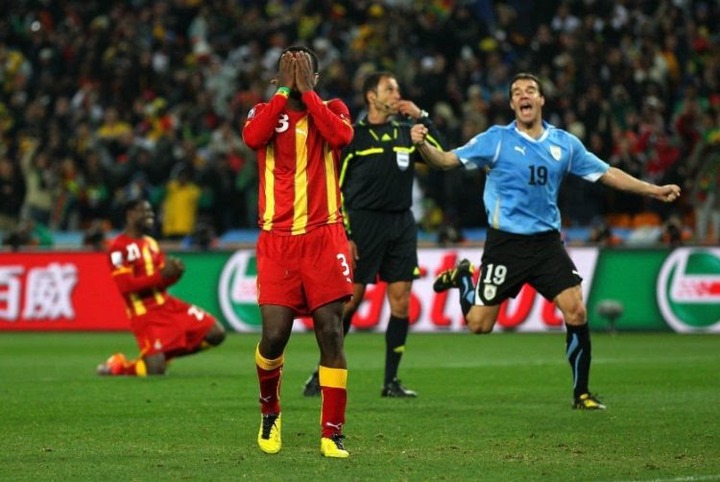 The top scorer for the Ghana Black Stars with 51 goals missed the said penalty kick on the 120th minutes of the game in Johannesburg in South Africa.
Indeed that day was a very bad day for Ghanaians and West Africa at large that, it evokes memories of regret, disappointment and pain; many lost their lives following the penalty miss by Gyan, the memories as we speak lives on as Joy FM today have taken to social media via twitter to recollect how Gyan missed the penalty kick.
This didn't go down well with the multi talented Ghanaian striker as he took to his handle to express his disappointment and lost of respect for the renowned FM station for their comment made.
According to Asamoah Gyan, today marks the last day he will be having something doing with the FM station as he added that they luck respect for others.
"I have lost Respect for you guys. From today, @Joy997FM is out on my list. You should be ashamed of your self. Learn how to respect. Smh" Asamoah Gyan wrote on Twitter.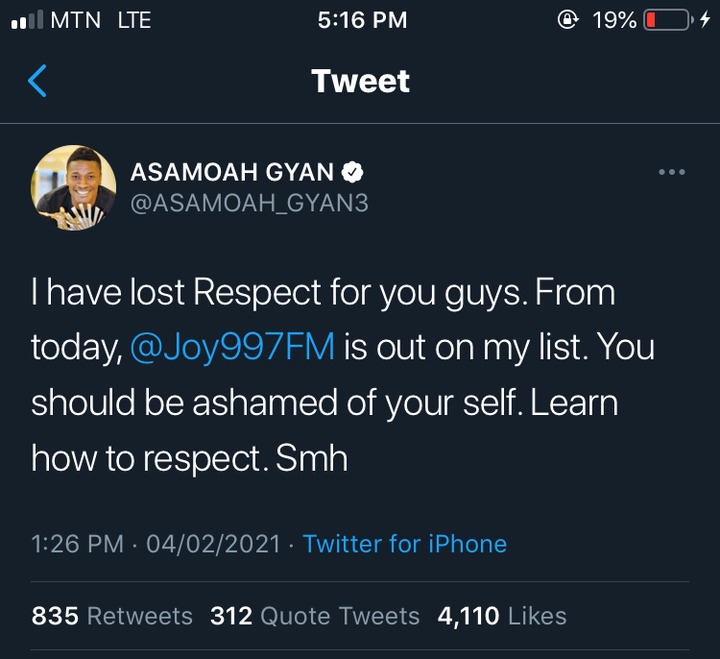 However the comment by Joy FM have been deleted but, Screenshot of their post it available