Though ghana have had enough of those prophets and their prophecies following how most of their prophecies do not manifest but, it obvious not as founder and leader of the Prophetic Hill Church, Prophet Nigel Gaisie has dropped a fresh revelation some few minutes back and it's a scary one.
According to the man of God, he saw Ghana crying over reason best known to him but according to him, he has much to talk about his revelations but due to some lessons he have lent from history, he will just put it the way he did it.
Throwing a bit light on the said revelations, he revealed that, the said said bad news will hit a citizen from the Eastern Region of Ghana hence we should pray hard.
"I saw Ghana cry….dont insult me but lets pray HARD.The spiritual atmosphere is not GOOD*…..I have much to say as a prophet but I learn from history, so I will just put it this way*point made….The Ghana Flag must be prayed for*E/R*…PNG." Nigel Gaisie wrote.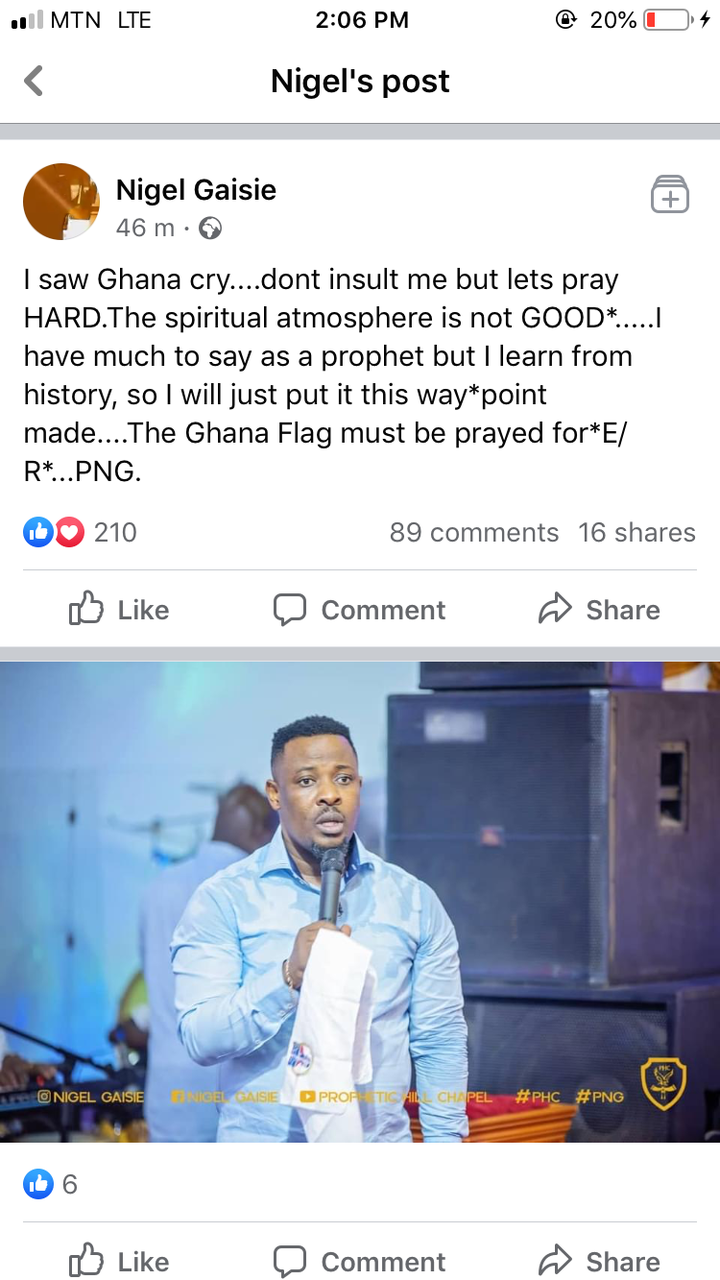 However, we all know that, The former Finance Minister and nominee, Ken Ofori-Atta has left the county for a medical trip in the United States.
According to a statement issued by the Public Relations Unit of Ministry of Finance, Mr. Ofori-Atta recovered from COVID-19 in December last year but still experiencing "medical complications" hence the counseling by his doctors to travel to American to "require further intervention".
Relating to Nigel Gaisie's revelation, it known for a fact that, the said finance minister nominee is from Kibi, a small town in the Eastern Region of Ghana hence, the Eastern Region(E/R) in his post could be him.
Ah well! Let just pray hard as said by Nigel Gaisie.