Kasoa is a sub urban town in Awutu Senya East Municipal district in central region of Ghana.
The uncultured and demonic rebranding of Sodom and Gomorrah practice that was evil in the sight the sight of God. Lesbian, Gay, Bisexual Transgender, and Queer and intersex ( LGBTQI) practices have been accepted by most countries while other nations is still against the act.

The President of the republic of Ghana some few days ago declined the practice into the country. Majority of Ghanaians is happy about the president decision on Same sex marriage.
However, some people in the country secretly engage themselves in the act for reasons best known to them.

A young guy by name Patrick Job Asama from Ayigbe tribe is caught red handed in the act with his fellow male counterpart.
According to Ibrahim Bawah an eye witness, speaking to Adom FM on Thursday March 11 2021 these two guys is done with the gay act and was heading home, Patrick was neatly dressed like a female. The other guy disappeared on the spot immediately Ibrahim raised an alarmed on them.
Patrick's denied the fact of being a male when he was asked by the mob who was eager to Lynch him to death.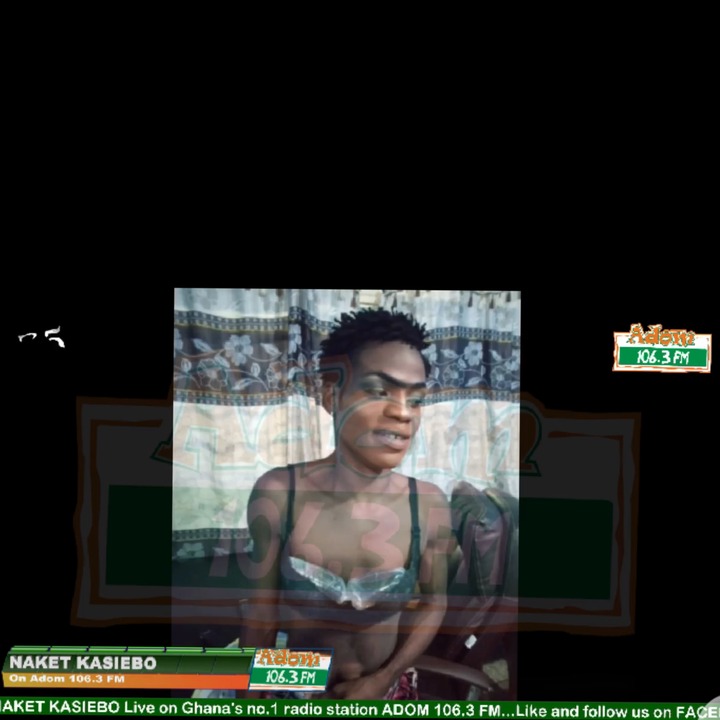 They discovered a new solution instead of lynching him, they peaceful handed him over to police at Kasoa. The policemen strip off his clothes and discovered female beads on his waist and pads under his manhood.
According to Kasoa police superintendent Samuel Odame speaking to Adom FM Patrick Job is currently in the police custody to the law as the practices is not legalized in Ghana as some countries do. He also urged the general public desist from the act.