The issue between the Akufo-Addo government and the former Auditor General, Mr Daniel Yaw Domelovo has taking a different dimension after Civil Society Organisations in the country accused Nana Addo of hounding Daniel Domelevo out of office as Auditor-General.
The Akufo-Addo government who is said to fight corruption in the county are doing otherwise.The Coalition of Civil Society Organizations Against Corruption had claimed that the circumstances surrounding the decision to force Mr Domelovo into retirement appear to suggest that the government has lost interest in fighting corruption.
This was made known in a press conference on March 10, by the Director of Advocacy and Policy Engagement at the Centre for Democratic Development (CDD-Ghana). According to him, the sudden retirement of Mr Domelevo is not in accordance with the Constitution as it breaches Article 23 of the Constitution.
This got to the Office of His Excellency Nana Addo Dankwa Akufo Addo as they released a 21 page latter yesterday, March 19, 2021 to address the issue at hand.
According to the letter released, the president's attention had been drawn to discussions generated after the retirement of the former Auditor General of the Republic of Ghana, Mr Daniel Yaw Domelevo which considerably suggest that, the Akufo-Addo government is not committed to the fight against corruption in the county.
They however revealed that, their narrative is focused on the unfounded allegations leveled against the current government that, they had targeted and wanted Mr Domelevo out of his office in all cost.
They gave circumstances that the current government wanted to work and had work with the former Auditor General during his time of office even though he was appointed during former President John Dramani Mahama's era. This and other circumstance were revealed in a 21 page letter released from the office of the president.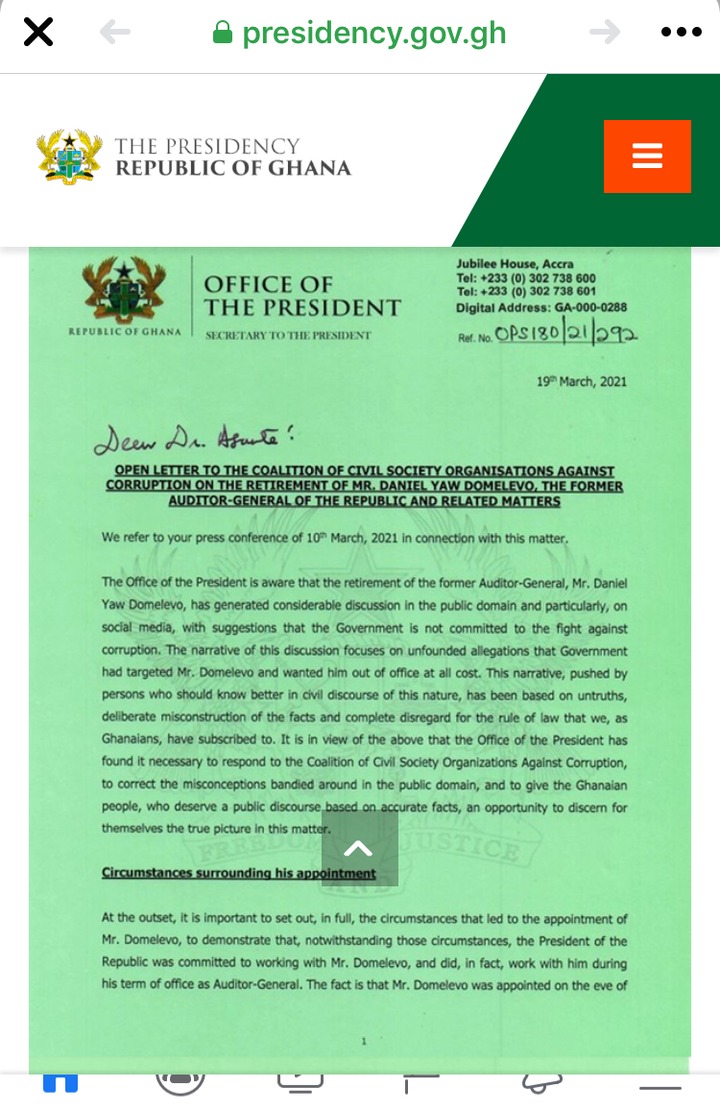 Mr Domelevo after reading or sighting the said letter released did the unexpected, just released a word on his Facebook page to reply the 21 page letter.
He wrote; Ludicrous.
"so foolish, unreasonable, or out of place as to be amusing." It meaning after goggling.
This reply of his has set the internet ablaze as many were amazed to have seen a one word reply to a 21 page letter from the president's office.
It got A Plus overwhelmed as he also took to his Facebook page and wrote; "The president wrote a 21 page letter. ✉ Daniel Yaw Domelovo replied with a word. Discuss….🤔"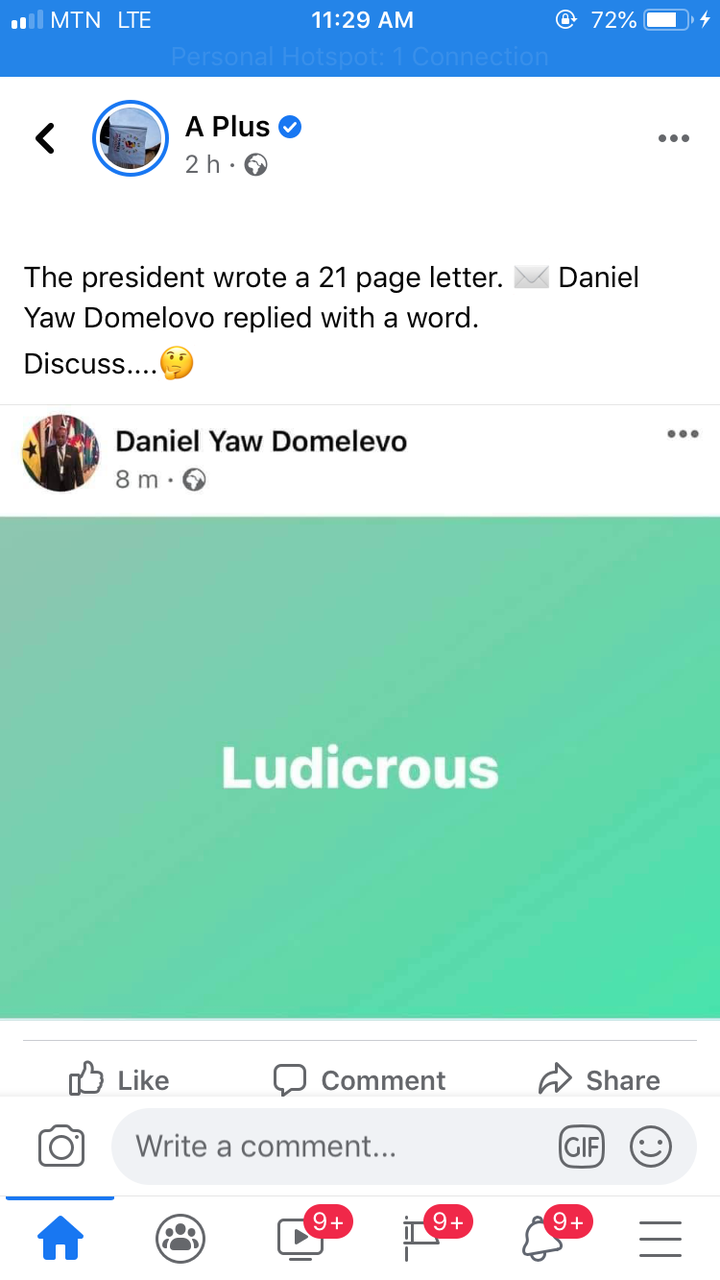 Checkout some reactions from Ghanaians below