A 30-year-old Ghanaian man have shared his sad story of how he was sold out by his own mother to a wicked man who almost sacrificed him to his gods some years back.
Speaking in an exclusive interview on OneGhana Tv, a Ghanaian guy whose name was given as Atta Samuel shared the sad experience he had from a very tender age in a village under Yiji which is close to Kete Krachi in the West of the Oti Region, and adjacent to Lake Volta.
According to him at age 5, he didn't know the whereabout of his biological father so one afternoon, he was told his father will be visiting them and he will go with him to stay with him. He was happy as a child and in a twinkle of and eye he had already informed most of his friend that, he will be leaving with his father as soon as he visits them.
A night before the 'D-day', his mother had prepared him for the next day's journey and after he ate that night, his mother sent him to a friend's place to spend the night that. This didn't sound weird to him since he was a child but when he got there, his mother's friend has prepared food an asked him to eat.
He did and went to sleep. He woke up the next morning to be with his supposed father as he pulled him out of a 'Ghana Must Go' beg indicating clearly that, he was kept in the bag after he slept but God being so good he didn't die in there.
They have reached the said place, where there was no light, few people where in the village and per his observations, the place was a fishing community.
His supposed father was married to three wives with 6 children according to him. Aside those 6 children of his supposed father who happens to be his 'step siblings', there were 39 other who were slaves to the man. He was later joined to them making a total of 40 children.
Initially he still though the man was his father as his mother said to him so, anytime he had problem with any of the slaves he threaten to tell 'his father' until one day he was told by one of the man's children that, he's not the man's son so he should go and look for his father.
He didn't take that serious as he was still young then.
But as time goes by, the number of children he met kept reducing but according to him, he thought mothers of the said children have come for them until he made friends with one of the the slaves whose name was given as Gameli and through him he got to know what the reduction was about.
According to Samuel, the man whose name was not given was a traditionalist who has his own gods he worships and, every annual year, he sacrifices one of his slaves to the gods to help him get more catch whenever they go for fishing.
Some according to him were slaughter like fowls to death while others were kept in a water barrel for days till they eventually die. This was the cause of their reduction.
This happen when the gods chooses you as the next to be sacrificed after they have all been lined up in front of the gods and given white fowls each to hold. Incantations will take place and whoever's fowl will die in his hand will be the next to be sacrificed.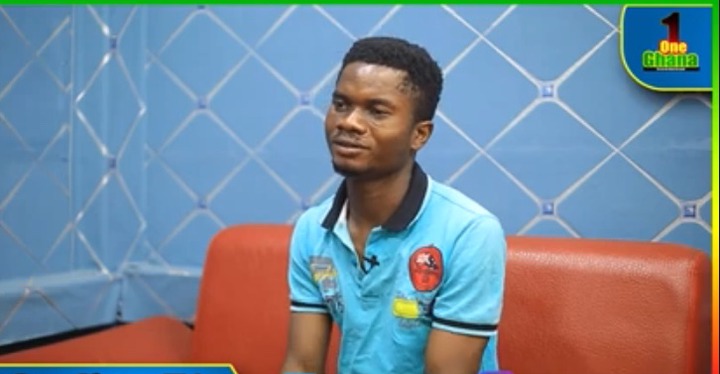 "We will be lined up and fowls will be given to us. Incantations will take place, whoever's fowl will die will be used for the sacrifice that year"
He added that, he grew up to 'support' that as he, together with some other will be instructed to take one of them and lock him in the water barrel after the gods has chosen the said person for sacrifice.
This went on and on, some tried to escape but failed as the water that surrounds the village they stayed in killed them and brought their dead body back to the village.
As time goes on, he became the man's 'rival' on the grounds that, his spirit is strong and he is challenging him spiritually of which he says, he doesn't have any idea what the man was talking about since he was not a witch or have any other eye.
This made him went through a lot as a boy. He was forced to eat his own 'waste', tortured till he one day escaped.
Prior to when he was leaving the place, about 15 children were dead of which some were sacrificed to the man's gods while other died in the act of escaping.
He however showed parts of his body which had marks as an evidence to what he was saying. One of his toes chopped off, marks on his back just to mention few. Indeed the young man suffered these years being a slave to the man who was supposed to be his father.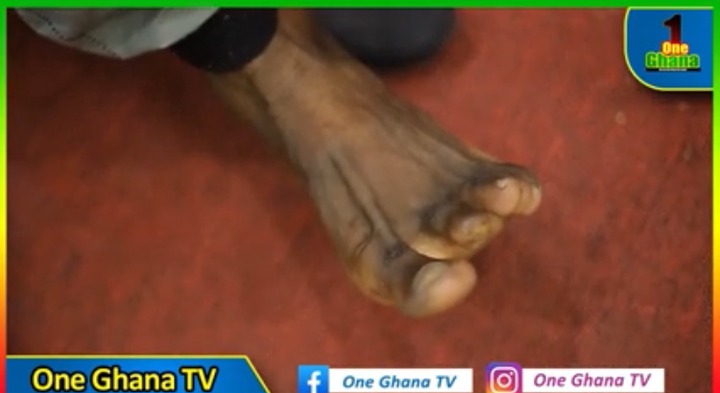 We thank God he's free now but the bad thing is that, he sometimes feel like eating his 'waste' and he needs help.
Watch The Full Interview Below