Aside corruption on the county, Domestic violence is one thing the government of Ghana should pay much attention to since instances of it is alarming. Day in day out news of such instance keep hitting us from all angles of the county and it's really pathetic when Human Right is concern.
Some however end up losing their lives as a result while others lose parts of their body as a lady given as Herey Adwoa Yeboah Asuama is a victim of such instance.
The said lady in and exclusive interview with Award-winning Ghanaian broadcaster, Ohemaa Woyeje on Angel FM shared her story of how she have been tortured in an abusive married almost two years now as she's almost losing her sight.
According to Herey, she has been married to her husband for the past 4 years now with three beautiful children with the last born just 1 year 4 months old. She revealed that, she has been suffering from domestic violence for close to 2 years now indicating that, it started when she was pregnant to her last born.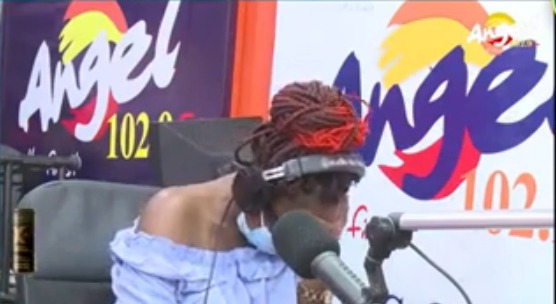 She has however complained the abusive marriage she was going through to both her parents and that of her husband's but nothing good came out the complains she was making.
According to her, her parents however asked her to stay in the marriage regardless the torture since in their family they don't divorce regardless the situation one finds his or herself in.
"My family have abandoned me, they said in our family we don't divorce… my grandma told me if I should die out of domestic violence, I died because of my children" she said
Talking about the other side, Her Mother in-law, she said her mother in-law told her not to divorce if her husband hasn't sack her from his house because, she could lose things she could inherit from her husband someday — Says she went through the same with her husband but because she endured the violence, she is now enjoying what her husband left behind.
"I One day informed my Month in-law about the abusive marriage I was into but she told me not to pack out of the house or divorce if her son hasn't thrown me out. She said when she was young, her husband did worse to her but she never left but now her husband is no more and she has inherit everything including his house." Herey said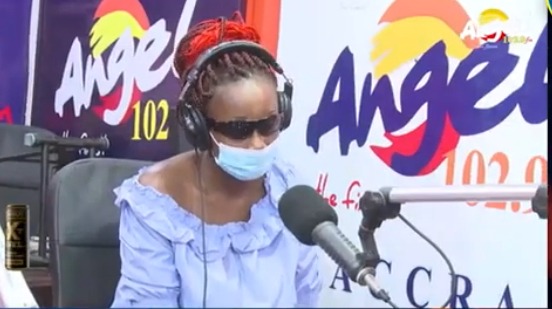 Taking about the torture she went through, she stated that, most of her beatings were midnight when their neighbours where asleep and force her to bed(you know what i mean by that) afterwards.
She however added that, every time he beats her, her children were awake to witness the sad scene and what he tells them is 'he's acting a movie with their mother'.
"My husband have been beating me for almost two years now. He sometimes chock me while beating me so I had to scream to call my children and, he sacks them whenever they come around but they most times stay to watch what was going on.
My husband sometimes use his shoulder on my chest leaving me in pain to the extent of finding it difficult to breath. When I tell me children to call our neighbors, he tells them not to because he's action.
He does that around 1am when people are asleep but the children wakes up whenever he does that." Herey added.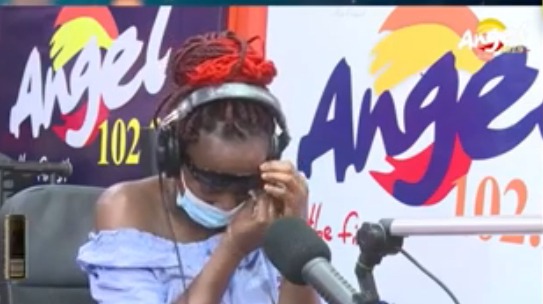 Videos of when she was being beaten by her husband day time were shown during the interview. Some in their room while other outside the room. See Screenshot Below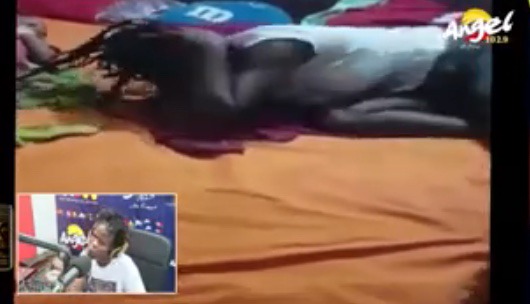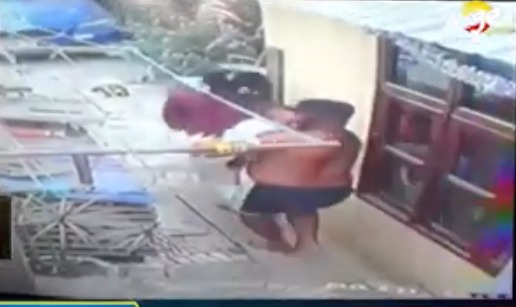 She however stated that, he was arrested by the police but a day after he was released.
However, she has now moved from her husband's house to stay with a friend's father but the sad thing is, she's almost losing her sight as the doctor says she needs to raise a whopping 14,000 Ghana cedis for a surgery else with time she will lose it completely.