Controversial Ghanaian politician and consultant who is a member of the ruling New Patriotic Party and the incumbent Member of Parliament for Nsawam-Adoagyiri, Frank Annoh-Dompreh has make a sharp U-Turn after receiving backlash from Ghanaians over a comment made about the #FixTheCountry agenda.
While angry youth were pouring out their dissatisfaction and disappointment in the ruling New Patriotic Party led by His Excellency Nana Addo Damkwa Akufo-Addo with an hashtag #FixTheCountry, people with the likes of Honorable Frank Annoh-Dompreh who do not care about the country took to social media to hit back at Ghanaians.
According to him, Ghanaians pushing the agenda of #FixTheCountry should rather fix themselves before asking the president to fix the country because, according to him, Ghanaian do not pay their taxes, we do not go to work on time, we do not buy made in Ghana products, just to mention few, reason why there is hardship in the country.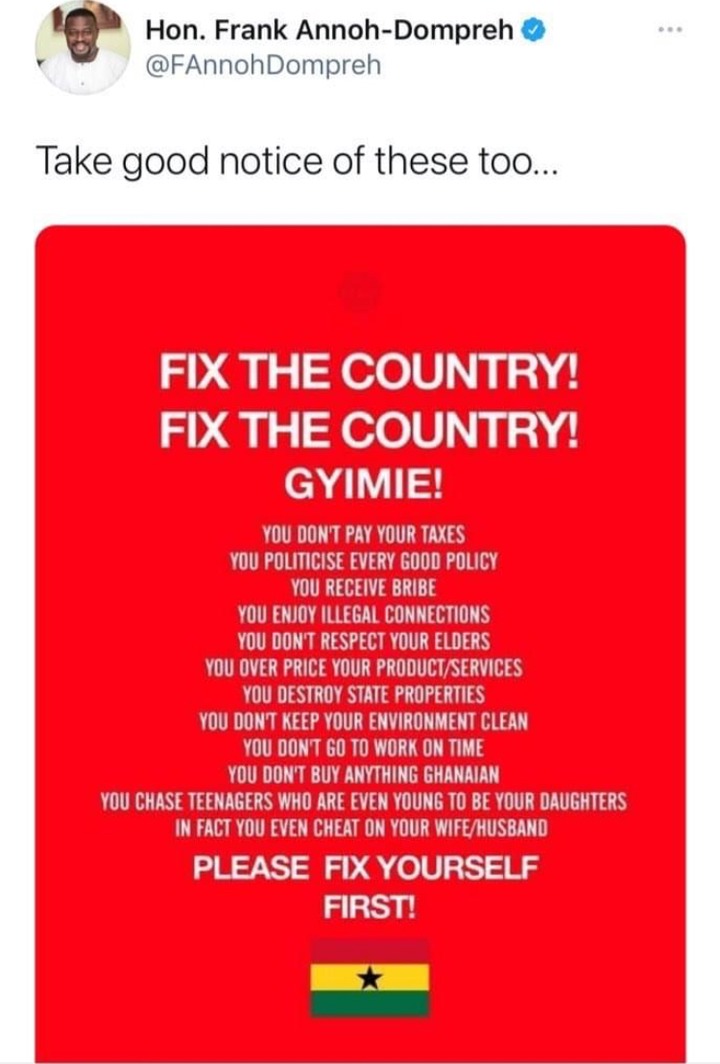 However, in a new post sighted, Honorable Frank Annoh-Dompreh took to the same social media platform where he dragged Ghanaians to the mud to apologize for his comment.
According to him, his post failed to convey both seriousness of the times and to capture the essence of what the Ghanaian youth were demanding from the leaders of the country.
See his tweet below