The popular Kumawood actress widely known as Xandy Kamel got married exactly a year now on the 14th of May, 2020.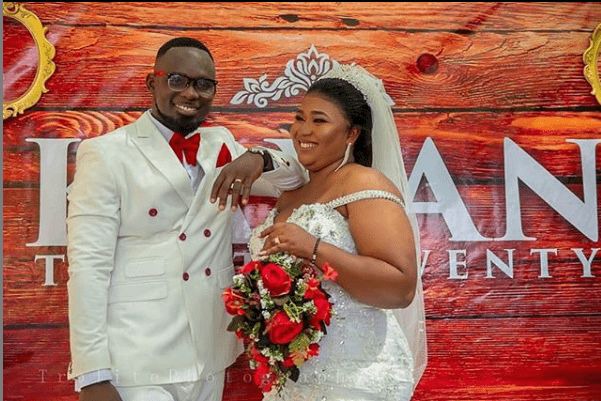 Xandy's marriage came as a suprise to many people especially his own industry players with how she was known and portrayed in the movie industry who nobody thought of her settling down with a man in such a "twinkling of an eye".
God being so good to Xandy she got married in a very simple marriage ceremony during the peak of the COVID-19 outbreak.
The couple walked down the aisle in a private ceremony last year which was attended by their families and close friends due to the COVID-19 restrictions of no social gathering.
Xandy Kamel and her better half, Nana Kwaku Mensah Kaninja are celebrating their first marriage ceremony today, being it 14th May, 2021.
A year of goodness, love and happiness the Kumawood Actress is celebrating her first marriage anniversary with her husband Kaninja which happened in their apartment.
The wedding ceremony was aired live on ZionFelix TV Xandy and his husband were in matching outfit looking all happy and content as they celebrate their marriage anniversary and renew their vows.
Netizens and other celebrities commented on wedding anniversary as they congratulated her and wished her all the best in his next years of marriage.